Sean lives and works out of downtown Victoria B.C as a full time landscape designer. Although technically he has a fixed address, he doesn't like admitting to it. If you asked him what he does and where he lives he'd open up the conversation emphasizing the answer largely depends on when, or what time of year. Summers he's probably closer to home soaking in the long warm days, Winter is anyone's guess. Sean's always looking for any opportunity to travel, no matter how far the distance or short in time the trip is. He visits L.A frequently trying to make it down once a month, sometimes just for a long weekend drive. Controlled chaos – he enjoys a lifestyle that's a bit hectic but the common thread tying it all together is always food. Whether it's a work trip, a vacation, or a surf trip with friends food gives any of his travels another purpose – explore new flavours. He's always seeking out the newest and freshest spots in any city, or the little neighbourhood must trys through word of mouth. Back In Five is a very literal expression of his interests and travels. From the music, the photos on the walls, to the menu that changes every week. Having another full time gig affords him to basically do whatever he feels like or is most inspired by that week, or even day. The ability to experiment and have fun really bleeds through the space and people seem to dig it. The space could look, feel, and sound different each time you come in. The consistency is in different but quality and fresh new menu items. We're quite curious about how he manages everything, how the idea came to fruition, and what his plans are with it for the future so we sat down with our friend Sean to get the full scoop.  Read what he has to say for himself below. Better yet check out the video.
33 Acres: We understand you have a full time job as a landscape designer. Why take on the daunting responsibility of also running a cafe/restaurant at the same time?
Sean: I've always liked hosting pop up events and bringing together all my friends to eat and drink well. I always dreamt of having my own space. Not necessarily run by me in the kitchen the whole time but I knew I needed something. I came by this space and I figured why wait, just do it. Cooking for people is my time to socialize and get out of the office. It doesn't feel like work to me.
33 Acres: Were you doing something similar before?
Sean: Yeah, over the years I used to host monthly pop ups and dinners in my garden or at my friends studio in Chinatown.
33 Acres: Most people require 6-8 hours of sleep, what's your take on that? Do you get any?
Sean: Haha. I've read articles on people who function with very minimal sleep and are successful. I'm hoping the same can work for me.
33 Acres: How did Back In Five come together?
Sean: I kept driving by the empty space on my way to work and I kept thinking about it then finally got in touch with the landlord. After looking at the space and a bit of brainstorming over a couple weeks the concept came together. The space just made sense. I always knew I wanted to do something like this but I never knew exactly what that was. Right time right place I guess.
33 Acres: Is this a passion project, a business, or something in the middle?
Sean: Still sorting that out…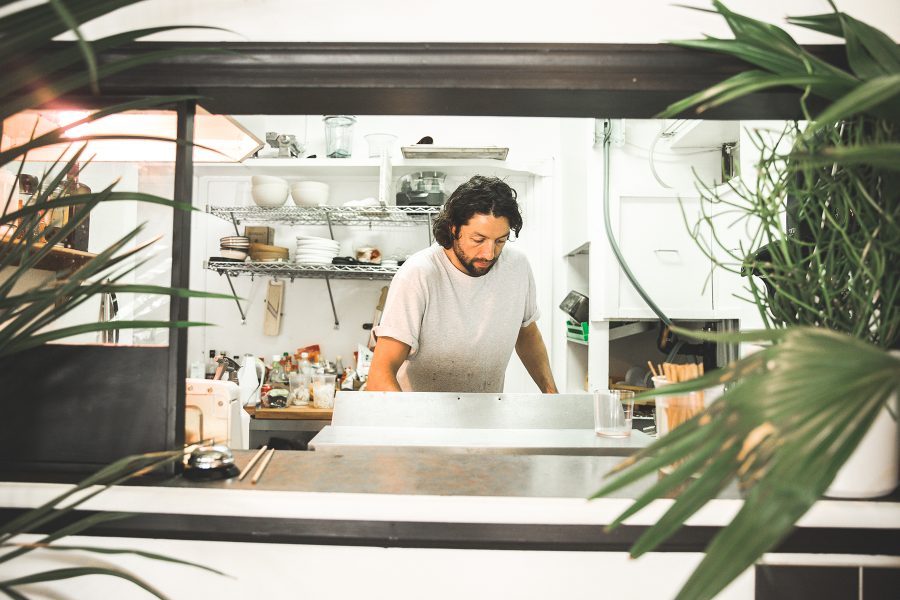 33 Acres: It appears you don't hold regular hours, how does one find out when it's open?
Sean: Well, from the start I knew I'd never be able to run normal hours and I felt like the name allowed me to do that. It also reflects my life over the past few years. Always back in five. Whether it's minutes, hours, days, or weeks. We post everything to instagram so check in to find out what's on the menu and the hours!
33 Acres: How and where do you continue to find inspiration to change up the menu every week?
Sean: Most of the menu comes from things I've eaten on my travels. The menu might change or evolve to things that I'm craving and/or missing. 
33 Acres: What's something you haven't done in there but would like to try?
Sean: I can't think of any one exact thing but I think there's endless opportunities.
33 Acres: Any travel plans for the near future?
Sean: Well I'm currently in LA as I'm answering these questions. It's my first day off in 70 days. So it looks like after this short trip I have a solid run of work to do. 
33 Acres: What are the plans and where would you like to see this project go?
Sean: I'd like to see Back In Five run as a simple cafe focusing on plants and exciting events / specialty pop-ups.
33 Acres: Ok lastly, we're stoked, what you got cooking up for the pop up at 33 Acres this weekend?
Sean : Same, it's gonna be a good time. We got some Back In Five favourites mixed with a few new things.
MENU BELOW FOR JULY 20 & 21: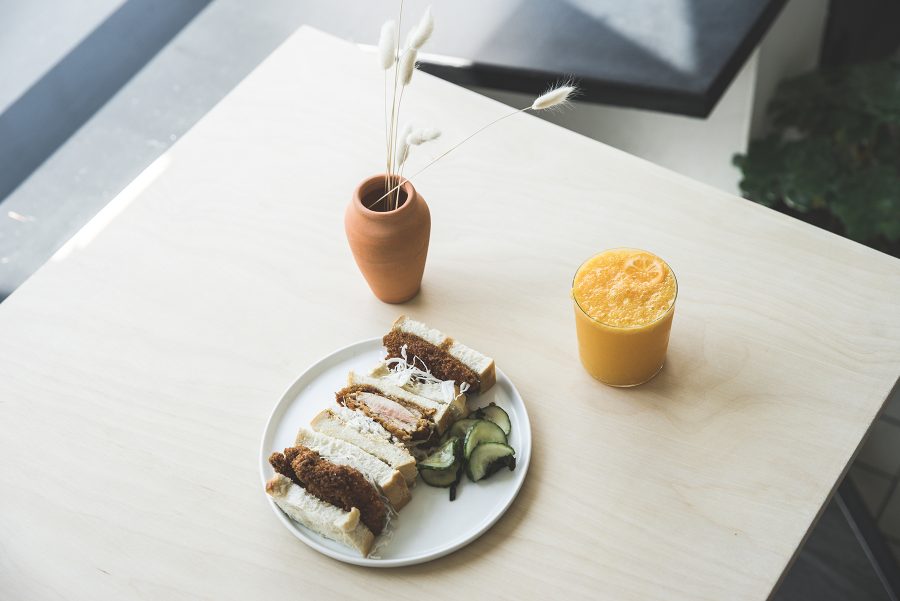 BRUNCH
BREAKFAST SANDWICH $10
Bacon, slow cooked egg, avocado, greens, crispy potato & cheese
TOAST $8
Whipped mascarpone & fresh berry Jam
FRUIT PLATE $10
Assorted fruits with Tajin & lime 
COOKIE $3
Back in five salted chocolate chip
DINNER 
CHICKEN SANDWICH $12
Fried chicken katsue with cabbage and pickles 
JAPANESE ROASTED VEGETABLE SANDWICH $12
Roasted Japanese potato & mushroom with charred scallion & chili 
CHARRED CABBAGE $10
Yuzukoshu aioli, furikake, bonito flakes     
CHARRED SNAP PEAS $8
Charred snap peas with greens, nori & chili yuzu dressing
PICKLES $5
Soy, cucumber, kombu & ginger