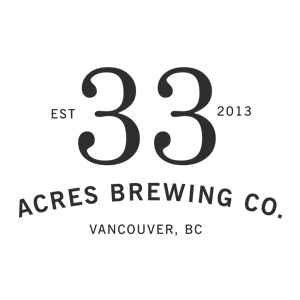 B33R
16oz / 24oz
PACKAGED
33 ACRES OF LIFE - CALIFORNIA COMMON
(Faint Fruit, Malt Body, Crisp) / 4.8% alc./vol.
Utilizing Northern Brewer hops lends a hint of evergreen traditional to style. A fruit likequality is created by fermenting the lager at ale temperatures. Gaining a complex taste through subtle approach; hints at a full-bodied ale yet retains a crisp finish.
$8.5 / $11
$14 (6 x 330ml)
33 ACRES OF OCEAN - WEST COAST PALE ALE
(Citrus, Pine, Clean) / 5.3% alc./vol.
This is a full flavoured beer integrated with a distinct floral hop which gives it a quality unique to our Pacific Northwest surroundings. This style is evolutionary from a typical IPA with an assertive hop, lower alcohol content, and slight pine aroma.
$8.5 / $11
$14 (6 x 330ml)
33 ACRES OF SUNSHINE - FRENCH BLANCHE
(Fruit Licorice, Summer) / 5.0% alc./vol.
Our dreamy Blanchè beer is silky smooth and subspiced with or- ange peel, coriander and anise seed to pair perfectly with the golden days of summer.
$8.5 / $11
$14 (6 x 330ml)
33 ACRES OF DARKNESS - SCHWARZBIER
(Black Lager, Roasted Malt, Crisp) / 5.0% alc./vol.
If you're the type who likes to judge a beer by it's colour, 33 Acres of Darkness will surely surprise. While most equate heaviness with flavour this Schwarzbier strives to bring tantalizing taste beyond the usual weight.
$8.5 / $11
$14(6 x 330ml)
33 ACRES OF NIRVANA - WEST COAST IPA
(Citrus, Pine, Dank) / 7.0% alc./vol.
With slightly more alcohol then average, this master creation showcases bitter-fresh pine with an invigorating offering of pink and orange citrusness.
$8.75 / $12
$15 (6 x 330ml)
33 ACRES OF EUPHORIA - BELGIAN TRIPEL
(Ripe Banana, Spice, Lemon Peel) / 9.2% alc./vol.
We say good things come in the power of threes, and when this magical concoction joyfully adorns the table an even three is still good company. World Beer Cup Silver Award - 2016 Belgian Tripel World Beer Cup Silver Award - 2018 Belgian Tripel.
$7 (12oz)
12(750ml)
33 ACRES OF CID3R
(Tart, Lemon Peel, Dry) / 6.9% alc./vol.
Combining three scrumptious makes of apple, naturally, is our interpretation of an Old English Scrumpy. This gluten-free hazy pale cider nimbly curls the tips of tongues, rounding about with applely biting triune zests, playfully ripe and brilliantly unfiltered.
$9 / -
$15 (4 x 355ml)
33B-EXP.003.MkVi - FLUFFY CLOUD IPA
(Tropical, Citrus, Fresh) / 6.5% alc./vol.
The resiny pithiness from judicious amounts of Citra and El Dorado carries through the mid palate and raises notes of minty tangerine and clear gummy bear. Soft and cloudy, fluffy and light, this is our favourite Hazy IPA.
$8.75 / $12
$15.75 (6 x 355ml)
33B-EXP.005 MKII - MEZCAL GOSE
(Lime, Tart, Refreshing) / 5.0% alc./vol.
A bracingly sour, bright, gose with Vancouver Island sea salt, fresh lime zest and juice. Conditioned on Mezcal oak to suggest warm Oaxacan beaches and salt-rimmed cocktail glasses with tiny umbrellas.
$8.5 / $11
$14 (6 x 355ml)
ROTATING B33R
16oz / 24oz
PACKAGED
33B-EXP.014.MKVII - NITRO DRY STOUT
(Roast, Chocolate, Smooth) / 4.5% alc./vol.
Dive deep through the depths of this smooth stout, passing fathoms of rich malt character and nitrogenous bubbles to find our homage to the style that defines session beers.
$8 / $11
-
33B-EXP-027.MKXVIII - AMERICAN PILSNER
(Light, Gentle, Crispy) / 4.5% alc./vol.
Load up this refreshing American Pilsner and hit the open road. A harmonious blend of rice, corn, 2 and 6 row barley malt layered with Palisade hops delivers smooth drinkability and elegant aromas of floral meadows and fruit nectar.
$8.5 / $12
-
33B-EXP.021.MKI - SPELT SAISON
(Gooseberry, Blanc, Dry) / 6.0% alc./vol.
A foeder fermented edition of our favorite brett saison! Dryhopped with Hallertau Blanc, this beer brings wine-like aromas and tannin structure within a spelt heavy saison base.
$8.5 / $12
$16 (750ml)
33B-EXP.027.MKIX - PREMIUM CZECH STYLE PILSNER
(Herbal, Soft, Classic) / 5.0% alc./vol.
An homage to the style that defines balance in beer. With rich malt, herbal and spicy hop flavours, pleasant bitterness and a clean fermentation, this versatile little number will leave thirsts quenched whatever the occasion.
$8.5 / $12
-
33B-EXP.027.MKXII -HELLES BOCK
(Pale, Crisp, Autumnal) / 6.0% alc./vol.
As the tones of the fall season surround us, this golden lager delivers delicate but complex malt character intertwined with gentle floral aromas, both provided from nothing but the finest German ingredients. Bright, slightly warming and highly drinkable, this beer accompanies crisp evenings, shorter days and gatherings of friends and family.
$8.5 / $12
$16 (4 x 473ml)
BOTTLES
(+$2 Corkage)
750ml
DRY HOPPED SAISON W/ DRAGON
(Pineapple, Herbal, Assertive ) / 6.6% alc./vol.
Styrian Dragon hops from the Savinja valley in gardens leaving tropical fruit, soft ripened cheese and barnyard in their wake. Fermented in stainless steel and bottle conditioned with our funkiest Brettanomyces.
$14
33B-EXP.039.MKVI - SPRUCE TIP SAISON
(Fresh, Candy, Sparkling) / 4.9% alc./vol.
Foraged, terpene-laden Sitka Spruce tips contribute fragrant red fruit and bubblegum aromas nestled amongst a bed of fresh pine needles. Brewed with Field Five Farm barley and straw and bottle conditioned with Brettanomyces, this saison expresses springtime in the Cascadian bioregion.
$14
JOUE 2021 ROSE
(Dried Flower, Bold, Juicy) / 12.5% alc./vol.
$60 (750ml)
JOUE 2021 RED FIELD BLEND
(Refreshing, Floral, Poignant) / 12.0% alc./vol.
$60 (750ml)
THORN & BURROW 2021 GEWURZTRAMINER
(Papaya, Pink Starburst, Peaches and Cream) / 10.9% alc./vol.
$65 (750ml)
EGG NOG
(Cazadores Reposado, Oloroso Sherry, Whole Egg, Milk, Cream, Sugar) / 6.4% alc./vol.
$12
NEGRONI
(Esquimalt Rosso Vermouth, Gin, Campari) / 29.8% alc./vol.
$14
OLD FASHIONED
(Four Roses Bourbon, Demerera, Angostura Bitters, Orange Bitters) / 38.0% alc./vol.
$14
MEZCAL MARGARITA
(Mezcal, Tequila, Triple Sec, Lime, Sugar) / 19.5% alc./vol.
$14
SHAFT
(Espresso Vodka, Vanilla Vodka, Brown Sugar, Coffee, Coconut Milk) / 5.6% alc./vol.
$10
ADAPTOGENIC SPARKLING WATERS
355ml
PACKAGED
33 ACRES OF HEART
(Rosehip, Hibiscus, Lemon Zest, Grains of Paradise, Holy Basil)
$4
$11 (4 x 355ml)
33 ACRES OF PACIFIC
(Juniper, Sage, Bitter Orange, Astragalus root)
$4
$11 (4 x 355ml)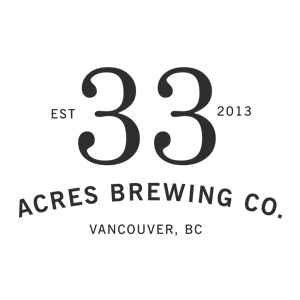 Large Plates (M-F: 11-9 / S-S: 2-9)
ANDOUILLE SAUSAGE
(Andouille Sausage, Bun, Dijon, Mayo, Pickles, Pickled Onion)
$15
DELI SANDWICH
(Oyama Deli Meats, Provolone, Pickled Eggplant, Arugula, Parmesan & Calabrian Chili Sauce, Chips)
$15
VEGAN BANH MI
(Marinated Tempeh, Miso Lentil Pate, Pickled Carrots and Daikon, Jalapeno, Cilantro, Vegan Aioli, Chips)
$15
CHARCUTERIE BOARD
(Rotating Selection of Meats from Oyama, Hazelnuts, Cornichon, Mustard and Sourdough)
$23
CHEESE BOARD
(Rotating Selection of Cheeses, Walnuts, Blueberry Jam, Quince Paste, Sourdough)
$15
PRETZEL & MUSTARD
(Pretzel, Dijon)
$7.5
CHIPS & DIP
(Kettle Chips, Onion Dip)
$6
VEGAN POPCORN
(Nutritional Yeast, Garlic Oil, Salt, Pepper)
$5
MEAT STICKS
(Choice of Bierbeisser, Landjager or Honey Garlic)
$5
COFF33 (served until 4pm)
NONNY CZECH PILSNER
(Light, Crisp, Golden) / 0.5% alc./vol.
$7
NONNY PALE ALE
(Tropical, Citrus, Juicy) / 0.5% alc./vol.
$7