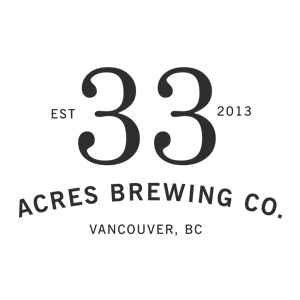 HAPPY HOUR (Mon-wed 11-3, Sun-Wed 8-close)
B33R (12oz / 16oz / 24oz)
$4.75 / $6.50 / $9
B33R
12oz / 16oz / 24oz
PACKAGED
33 ACRES OF LIFE - CALIFORNIA COMMON
(Faint Fruit, Malt Body, Crisp) / 4.8% alc./vol.
Utilizing Northern Brewer hops lends a hint of evergreen traditional to style. A fruit likequality is created by fermenting the lager at ale temperatures. Gaining a complex taste through subtle approach; hints at a full-bodied ale yet retains a crisp finish.
$6 / $8 / $11
$13.5 (6 x 330ml)
33 ACRES OF OCEAN - WEST COAST PALE ALE
(Citrus, Pine, Clean) / 5.3% alc./vol.
This is a full flavoured beer integrated with a distinct floral hop which gives it a quality unique to our Pacific Northwest surroundings. This style is evolutionary from a typical IPA with an assertive hop, lower alcohol content, and slight pine aroma.
$6 / $8 / $11
$14 (6 x 330ml)
33 ACRES OF SUNSHINE - FRENCH BLANCHE
(Fruit Licorice, Summer) / 5.0% alc./vol.
Our dreamy Blanchè beer is silky smooth and subspiced with or- ange peel, coriander and anise seed to pair perfectly with the golden days of summer.
$6 / $8 / $11
$13.5 (6 x 330ml)
33 ACRES OF DARKNESS - SCHWARZBIER
(Black Lager, Roasted Malt, Crisp) / 5.5% alc./vol.
If you're the type who likes to judge a beer by it's colour, 33 Acres of Darkness will surely surprise. While most equate heaviness with flavour this Schwarzbier strives to bring tantalizing taste beyond the usual weight.
$6 / $8 / $11
$13.5 (6 x 330ml)
33 ACRES OF NIRVANA - WEST COAST IPA
(Citrus, Pine, Dank) / 7.0% alc./vol.
With slightly more alcohol then average, this master creation showcases bitter-fresh pine with an invigorating offering of pink and orange citrusness.
$6.5 / $8.5 / $12
$14.5 (6 x 330ml)
33 ACRES OF EUPHORIA - BELGIAN TRIPEL
(Ripe Banana, Spice, Lemon Peel) / 9.2% alc./vol.
We say good things come in the power of threes, and when this magical concoction joyfully adorns the table an even three is still good company. World Beer Cup Silver Award - 2016 Belgian Tripel World Beer Cup Silver Award - 2018 Belgian Tripel.
$7 / - / -
12(750ml)
33 ACRES OF CID3R
(Tart, Lemon Peel, Dry) / 6.9% alc./vol.
Combining three scrumptious makes of apple, naturally, is our interpretation of an Old English Scrumpy. This gluten-free hazy pale cider nimbly curls the tips of tongues, rounding about with applely biting triune zests, playfully ripe and brilliantly unfiltered.
$7 / $9 / -
$21 (6 x 330ml)
33B-EXP.001.Mki - DRY HOPPED PILSNER
(Crisp, Grassy, Kellerbier) / 4.8% alc./vol.
Our interpretation of a European Kellerbier. Refreshing, crisp and easy drinking. With a bright herbal nose from late kettle additions of Saaz and Tettnanger. Hazy Pilsner is our easy drinking answer to the everyday beer.
$6 / $8 / $11
$13.5 (6 x 355ml)
33B-EXP.002.MkII - BABY AZACCA
(Pineapple, Citrus, Easy) / 5.5% alc./vol.
A full expression of hop flavour and aroma in an anytime, anywhere format. Huge cascades of tropical and orchard fruit fall onto layers of pine and silky smooth malt base notes to calm that well earned thirst.
$6 / $8 / $11
$14 (6 x 355ml)
33B-EXP.003.MkVi - FLUFFY CLOUD IPA
(Citrus, Pine, Clean) / 6.5% alc./vol.
The resiny pithiness from judicious amounts of Citra and El Dorado carries through the mid palate and raises notes of minty tangerine and clear gummy bear. Soft and cloudy, fluffy and light, this is our favourite Hazy IPA.
$6.5 / $8.5 / $12
$14.5 (6 x 355ml)
33B-EXP.005 MKII - MEZCAL GOSE
(Lime, Tart, Refreshing) / 5.0% alc./vol.
A bracingly sour, bright, gose with Vancouver Island sea salt, fresh lime zest and juice. Conditioned on Mezcal oak to suggest warm Oaxacan beaches and salt-rimmed cocktail glasses with tiny umbrellas.
$6 / $8 / $11
$13.5 (6 x 355ml)
ROTATING B33R
12oz / 16oz / 24oz
PACKAGED
33B-EXP.041.MkII - DRY HOPPED FOEDER BEER
(Citrus, Lychee, Oak) / 6.2% alc./vol.
A blend of up to 18 month old foeder beer hit with dry hop additions of Nelson Sauvin, Vic Secret and experimental hop variety EXP158 from Jackson Farms in Idaho. Pops of citrus, stonefruit and white wine character meld into oak complexity with the subtlest of funks from brettanomyces yeast.
$9 (473ml can)
$18 (4 x 473ml)
33B-EXP.004.MIII - CITRA BOMB DOUBLE IPA
(Fruity, Tropical, Big) / 7.8% alc./vol.
This punchy Double IPA screams citrus and thiols across a smooth malt base. Using the best of latest techniques to boost aroma and flavour, you'll find the effects approachable and distinct.
$7 / $9 / $13
$20 (4 x 473ml)
BOTTLES
(+$2 Corkage)
750ml
DRY HOPPED SAISON W/ LORAL
(Citrus, Herbal, Spritzy) / 5.5% alc./vol.
This French-style saison showcases interplay between fermenta- tion and hop aroma, laying bright lemon citrus over a foundation of herbal bitterness. Highly carbonated through refermentation in the bottle by our best Brettanomyces friends. Refreshing finish.
$14
DRY HOPPED SAISON W/ CHINOOK
(Orange, Resinous, Friendly) / 5.3% alc./vol.
Utilizing Skagit Valley Malting, BC grown malt, a hand selected lot of Chinook from Crosby Hops in Oregon and our favourite brettanomyces for bottle conditioning, this spicy, soft and citrus forward saison professes locality, terroir and good vibes.
$14
DRY HOPPED SAISON W/ DRAGON
(Pineapple, Herbal, Assertive ) / 6.6% alc./vol.
Styrian Dragon hops from the Savinja valley in gardens leaving tropical fruit, soft ripened cheese and barnyard in their wake. Fermented in stainless steel and bottle conditioned with our funkiest Brettanomyces.
$14
STRAWBERRY SUPERBERLINER
(Jammy, Sour, Berrycentric) / 6.5% alc./vol.
Loads of strawberries were harmed in the making of this intensely fruited sour beer. Layers of strawberry were refermented on this oak fermented mixed culture while resting in stainless until outrageous.
$20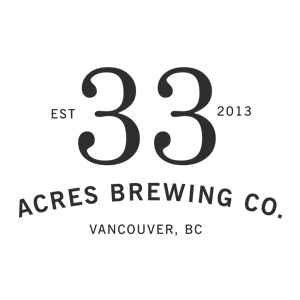 Large Plates (M-F: 11-9 / S-S: 2-9)
ANDOUILLE SAUSAGE
(Andouille Sausage, Potato Bun, Dijon, Mayo, Honey Mustard Pickles, Pickled Onion)
$15
DELI SANDWICH
(Mortadella, Pepper Salami, Provolone, Pickled Eggplant, Arugula, Parmesan and Calabrian Chili Sandwich Sauce, Baguette)
$15
VEGAN BARBECUE MUSHROOM SANDWICH
(Roasted Oyster & Portobello, Darkness BBQ Sauce, Pickled Onions & Jalapenos, Chipotle Mayo)
$15
TUNA MELT
(Ocean Wise Tuna, Mayonnaise, Old Cheddar, Smoked Cheddar, Pickled Onion, Mixed Greens, Ciabatta, Dill Pickle)
$15
CHARCUTERIE BOARD
(Saucisson sec d'Auvergn, Honey Mustard Pickles, Dijon / Add Cheese $5 / Add Pepper Salami $4)
$12
CHEESE BOARD
(Beemster, Brie or Meadow Vegan Cashew Cheeze, Pickles, East Van Jam / Add Cheese $5 / Add Pepper Salami $4)
$9
PRETZEL BOARD
(Pretzel, Dijon, Sauerkraut, Pickles, Andouille or Pickled Vegetables)
$12
CHIPS & DIP
(Kettle Chips, Onion Dip)
$6
BEEF JERKY
(BKH Beef Jerky, Choice of Original or Spicy)
$10
VEGAN POPCORN
(Nutritional Yeast, Garlic Oil, Salt, Pepper)
$5
MEAT STICKS
(Choice of Bierbeisser, Landjager or Honey Garlic)
$5
BRUNCH FEATURE
Ask your server.
$17
AVOCADO SMASH
(Avocado, Pickled Onions, Cherry Tomato, Radish, Feta, Sourdough)
$14
GRAVLAX BENEDICT
(Trout, Lemon, Dill, Red Onion, Capers Poached Eggs, Chili Oil, Hollandaise, Buttermilk Biscuit, Side Salad)
$17
TOMATO AVOCADO BENEDICT
(Roasted Tomato, Avocado, Poached Eggs, Chili Oil, Hollandaise, Buttermilk Biscuit, Side Salad)
$17
AUTUMN SPICE B33R WAFFLES
(Warming Spiced Waffle, Cabocha Squash Curd, Whipped Cream)
$15
SHAKSHUKA
(Two Slices Sourdough, Tomato and Pepper Stew, Poached Eggs, Feta and Cilantro)
$15
BREAKFAST SANDWICH
(Brioche Bun, Roasted Garlic Aoli, Crispy Bacon, Egg and Smoked Cheddar, Side Salad)
$14
PORK AND BEANS
(Barbecue Pork Belly, Chipotle and Maple Baked Beans, Slaw, Buttermilk Biscuit)
$16
ROASTED HERB AND PARM POTATOES
(Roasted Potatoes, Herbs, Parmesan, Aoli)
$7
ADD ONS
($2 egg, avocado, toast / $3 buttermilk biscuit, roasted mushroom / $4 bacon / $7 andouille sausage)
MT. PLEASANT NEGRONI
(Esquimalt Dry Vermouth, Solera Sherry, Campari)
$11
OLD FASHIONED
(Four Roses Bourbon, Demerera, Angostura Bitters, Orange Bitters)
$13
MAUI BREEZE
(Aperol, Vodka, Tequila, Sheringham Rhubarb Gin, Lemon, 33 Acres of Sunrise)
$12
MEZCAL SPRITZ
(Mezcal, Triple Sec, Lime, 33 Acres of Mineral)
$10
A SUNDAY IN AUGUST - PIQUETTE BLANC
(Melon, Apricot, Peaches and Cream) / 5.5% alc./vol.
$16.5 (355ml)
A SUNDAY IN AUGUST - PIQUETTE ROSE
(Strawberry, Rose, Salinity) / 5.5% alc./vol.
$16.5 (355ml)
A SUNDAY IN AUGUST - PINOT GRIS
(Grapefruit, Floral, Mineral) / 10.9% alc./vol.
$60 (750ml)
RIGOUR AND WHIMSEY - BI-FROST
(Herbaceous, Tannic, Bold) / 12.6% alc./vol.
$75 (750ml)
LIGHTNING ROCK - 2019 VIOGNER
(White Peach, Orange Blossom, Bracing) / 12.0% alc./vol.
$72 (750ml)
LIGHTNING ROCK - 2020 PINOT NOIR
(Cherry, Leather, Graphite) / 12.4% alc./vol
$77 (750ml)
NON ALCOHOLIC
355ml
PACKAGED
33 ACRES OF SUNRISE
(Orange Zest, Chamomile, Orange blossom, Vitamin D & Ashwaganda)
$4
$11 (4 x 355ml)
33 ACRES OF PACIFIC
(Juniper, Sage, Bitter Orange & Astragalus Root)
$4
$11 (4 x 355ml)
33 ACRES OF HEART
(Rosehip, Hibiscus, Lemon zest, Grains of Paradise & Holy Basil)
$4
$11 (4 x 355ml)