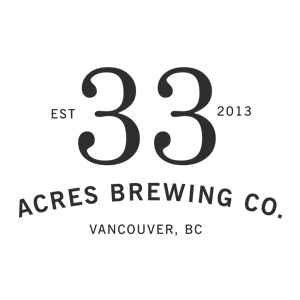 HAPPY HOUR (Tues - Wed 11-5, 8-close)
CALGARY BREWED B33R (16oz / 24oz)
$7.50 / $10
CALGARY BREWED B33R
16oz / 24oz
PACKAGED
33 ACRES OF SUNSHINE - FRENCH BLANCHE
(Fruit Licorice, Summer) / 5.0% alc./vol.
Our dreamy Blanchè beer is silky smooth and subspiced with or- ange peel, coriander and anise seed to pair perfectly with the golden days of summer.
$8 / $11
$16 (6 x 355ml)
33 ACRES OF OCEAN - WEST COAST PALE ALE
(Citrus, Pine, Clean) / 5.3% alc./vol.
This is a full flavoured beer integrated with a distinct floral hop which gives it a quality unique to our Pacific Northwest surroundings. This style is evolutionary from a typical IPA with an assertive hop, lower alcohol content, and slight pine aroma.
$8 / $11
$16 (6 x 355ml)
33B-EXP.002.MkII - BABY AZACCA
(Pineapple, Citrus, Easy) / 5.5% alc./vol.
A full expression of hop flavour and aroma in an anytime, anywhere format. Huge cascades of tropical and orchard fruit fall onto layers of pine and silky smooth malt base notes to calm that well earned thirst.
$8 / $11
$5.5 (1 x 473ml)
33B-EXP.003.MkVi - FLUFFY CLOUD IPA
(Citrus, Pine, Clean) / 6.5% alc./vol.
The resiny pithiness from judicious amounts of Citra and El Dorado carries through the mid palate and raises notes of minty tangerine and clear gummy bear. Soft and cloudy, fluffy and light, this is our favourite Hazy IPA.
$8.5 / $12
$17 (6 x 355ml)
TAMARIND PEACH SUPERBERLINER
(Fruity, Tangy, Rich) / 4.8% alc./vol.
Tamarind and peach combine in this sour beer to form complex flavour structures of tart, sweet and sour built over smooth bases of barley and wheat.
$8.5 / $12
$5.5 (1 x 473ml)
WEST COAST HAZY IPA
(Berry, Citrus, Resin) / 7.0% alc./vol
At the crossroads of old and new school, this IPA combines classic West Coast aromas of berry, citrus and pine with the mouthfeel of a hazy IPA. A subtle bitterness reminds us where it started, paired with a hop intensity to give us glimpses of its future.
$8.5 / $12
$5.5 (1 x 473ml)
B33R
16oz / 24oz
PACKAGED
33 ACRES OF LIFE - CALIFORNIA COMMON
(Faint Fruit, Malt Body, Crisp) / 4.8% alc./vol.
Utilizing Northern Brewer hops lends a hint of evergreen traditional to style. A fruit likequality is created by fermenting the lager at ale temperatures. Gaining a complex taste through subtle approach; hints at a full-bodied ale yet retains a crisp finish.
$8.5 / $12
$16 (6 x 355ml)
33 ACRES OF DARKNESS - SCHWARZBIER
(Black Lager, Roasted Malt, Crisp) / 5.5% alc./vol.
If you're the type who likes to judge a beer by it's colour, 33 Acres of Darkness will surely surprise. While most equate heaviness with flavour this Schwarzbier strives to bring tantalizing taste beyond the usual weight.
$8.5 / $12
$16 (6 x 355ml)
33 ACRES OF NIRVANA - WEST COAST IPA
(Citrus, Pine, Dank) / 7.0% alc./vol.
With slightly more alcohol then average, this master creation showcases bitter-fresh pine with an invigorating offering of pink and orange citrusness.
$8.5 / $12
$17 (6 x 355ml)
33 ACRES OF EUPHORIA - BELGIAN TRIPEL
Ripe Banana, Spice, Lemon Peel) / 9.2% alc./vol.
We say good things come in the power of threes, and when this magical concoction joyfully adorns the table an even three is still good company. World Beer Cup Silver Award - 2016 Belgian Tripel World Beer Cup Silver Award - 2018 Belgian Tripel.
$7 (12oz)
$14 (750ml)
33B-EXP.001.Mki - DRY HOPPED PILSNER
(Crisp, Grassy, Kellerbier) / 4.8% alc./vol.
Our interpretation of a European Kellerbier. Refreshing, crisp and easy drinking. With a bright herbal nose from late kettle additions of Saaz and Tettnanger. Hazy Pilsner is our easy drinking answer to the everyday beer.
$6.5 (355ml can)
$16 (6 x 355ml)
33B-EXP.005 MKII - MEZCAL GOSE
(Lime, Tart, Refreshing) / 5.0% alc./vol.
A bracingly sour, bright, gose with Vancouver Island sea salt, fresh lime zest and juice. Conditioned on Mezcal oak to suggest warm Oaxacan beaches and salt-rimmed cocktail glasses with tiny umbrellas.
$8.5 / $12
$16 (6 x 355ml)
33B-EXP.002.MKIII – LUMINOSA HAZY PALE ALE
(Tropical, Bold, Beachy) / 4.8% alc./vol.
Summer vibes await with this smooth hazy pale ale using the hot new hop variety Luminosa! Peach and tropical notes of guava and passionfruit evoke warm, sandy beaches and cocktails with little straw hats
$9 (473ml can)
$22 (4 x 473ml)
33B-EXP-027.MKXIII - 33 x SAVIO VOLPE PRESERVED LEMON LAGER
(Lemon, Juniper, Famiglia) / 5.2% alc./vol.
A collab with our pals at Savio Volpe! This classic pale german base was lagered for an extended period of time before being conditioned on preserved lemon, bringing a pop of acidity, gentle juniper and sage aromatics and freshening minerality.
$9 (473ml can)
$20 (4 x 473ml)
33B-EXP.027.MKXII - VIENNA LAGER
(Crisp, Noble, Classic) / 5.0% alc./vol.
Toast the longer daylight hours and crisp weather of spring with this classic light amber lager. Brewed with German Vienna malt and Tettnanger hops, this amber lager is easy drinking and layered with delicate complexity.
$9 / $12.5
$20 (4 x 473ml)
UNCOMMON DRY CID3R
(White Grape, Aromatic, Dry) / 6.5% alc./vol.
From our friends at Uncommon Cider
$7.5 (12oz)/ $9 (16oz)
-
BOTTLES
BOTTLE FOR HERE
BOTTLE TO GO
DRY HOPPED SAISON W/ DRAGON
(Pineapple, Herbal, Assertive ) / 6.6% alc./vol.
Styrian Dragon hops from the Savinja valley in gardens leaving tropical fruit, soft ripened cheese and barnyard in their wake. Fermented in stainless steel and bottle conditioned with our funkiest Brettanomyces.
$16
$14
NATURAL WINE
GLASS / BOTTLE FOR HERE
BOTTLE TO GO
DUCKMAN - WHITE THE DUCK
(Stone, Lemon, Herbs) / 12.5% alc./vol
$12 / $65
$35
LA GOUTTE DU SEIGNEUR - COTES DU RHONE
(Red Currants, Strawberries, Delight) / 13.0% alc./vol.
$12 / $65
$35
SEE FRIDGE FOR ROTATING WINES BY THE BOTTLE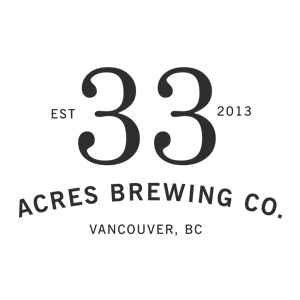 VEGAN POPCORN
(Nutritional Yeast, Garlic Oil, Salt, Pepper)
$5
CHEESE BOARD
(Brie, Gruyere, Fig Jam, Crackers, Pickled Vegetables / Add Charcuterie $9)
$17
PRETZEL
(Warm Pretzel, dijon)
$7
CHIPS & DIP
(Hard Bite Chips, Onion Dip)
$7
MARIGOLD MIXED PICKLES
(Rotating Pickles from our friends at Marigold MFG)
$9
BEEF JERKY
(Pioneer Butchery Beef Jerky)
$9
MEAT STICKS
(Choice of Pepperoni or Landjager)
$8
CAJUN BAR NUTS
(Cajun spiced Nut Mix)
$6
TOMATO AVOCADO SANDWICH
(Tomato, Avocado, Pickled Onions, Mayo, Shredded Lettuce)
$15
DELI SANDWICH
(Pioneer Butchers Tuscan Salami & Proscuitto, Provolone, Pickled Onion, Chips, Shredded Lettuce, Dijon Aoli, Vinaigrette)
$16
HAM & CHEESE SANDWICH
(Pioneer Butcher Country Ham, Provolone, Shredded Lettuce, Mayo, Pickles)
$16
CLARIFIED MEZCAL MARGARITA
(Mezcal, Tequila, Curacao, Lime, Sugar, Clarified w/ milk) / 18.0% alc./vol.
$14
MT. PLEASANT NEGRONI
(Dry Vermouth, Oloroso Sherry, Campari) / 18.1% alc./vol.
$14
OLD FASHIONED
(Four Roses Bourbon, Demerera, Angostura Bitters, Orange Bitters) / 33.6% alc./vol.
$14
MAUI BREEZE
(Aperol, Tequila, Sheringham Rhubarb Gin, Lemon, Pineapple, Soda) / 8.3% alc./vol.
$13
'BLUE' HAWAII
(Rum, Vodka, Dry Curacao, Pineapple, Lemon) / 13.0% alc./vol.
$14
SHAFT
(Espresso Vodka, Cold Brew, Honey, Coconut Milk) / 4.5% alc./vol.
$9
NONNY CZECH PILSNER
(Light, Crisp, Golden) / 0.5% alc./vol.
$7 (355ml)
NONNY PALE ALE
(Tropical, Citrus, Juicy) / 0.5% alc./vol.
$7 (355ml)
ANNEX SODA MFG GINGER BEER
$6
CASCARA DARK AND STORMY
(Cascara Tea Concentrate, Annex Ginger Beer) / 0.0% alc./vol.
$8
ADAPTOGENIC SPARKLING WATERS
355ml
PACKAGED
33 ACRES OF HEART
(Rosehip, Hibiscus, Lemon Zest, Grains of Paradise, Holy Basil)
$4.5
$13 (4 x 355ml)
33 ACRES OF SUNRISE
(Orange Zest, Orange Blossom, Chamomile, Vitamin D, Ashwaghanda)
$4.5
$13 (4 x 355ml)
33 ACRES OF PACIFIC
(Juniper, Sage, Bitter Orange, Astragalus root)
$4.5
$13 (4 x 355ml)